The Mental Health Awareness Task Force (MHATF) is a campaign to promote psychological well-being among healthcare professionals that was started by the AACOM Council of Student Government Presidents (COSGP) and the Student Osteopathic Medical Association (SOMA). At ACOM, it is the goal of the MHATF to offer resources and support to promote and maintain good mental health during the rigorous medical school curriculum. Additionally, we wish to foster engaged discussion on mental health topics affecting medical students in order to break down the stigma of mental illness.
ACOM Security
(334) 944-4044
(334) 405-6276 (cell)
House of Ruth
(334) 739-5214
(334) 347-1912
24-Hour Hotline
1-800-650-6522
**BetterHelp from UnitedHealthCare
Nationwide, online counseling services
**SAP from UnitedHealthCare
Counseling, legal and financial assistance, and mediation services
Call the # on the back of the student ID card or log into uhcsr.com/myaccount
** Only available to students with the ACOM student health insurance plan.
National Domestic Violence Hotline: 1-800-799-7233
RAINN: 1-800-656-4673
Counseling Services of Dothan: 334-794-2113
Better Help – Online Counseling: https://www.betterhelp.com/online-counseling/
The American Foundation for Suicide Prevention: 1-888-333-2377
The Suicide Prevention Lifeline:  1-800-273-8255
Anxiety and Depression Association of America (ADAA): 240-485-1001
NeedyMeds – info on available patient assistant programs: 1-800-503-68997
LGBT National Hotline: 1-888-843-4564
Rehab Spot: www.RehabSpot.com/Co-Occurring-Disorders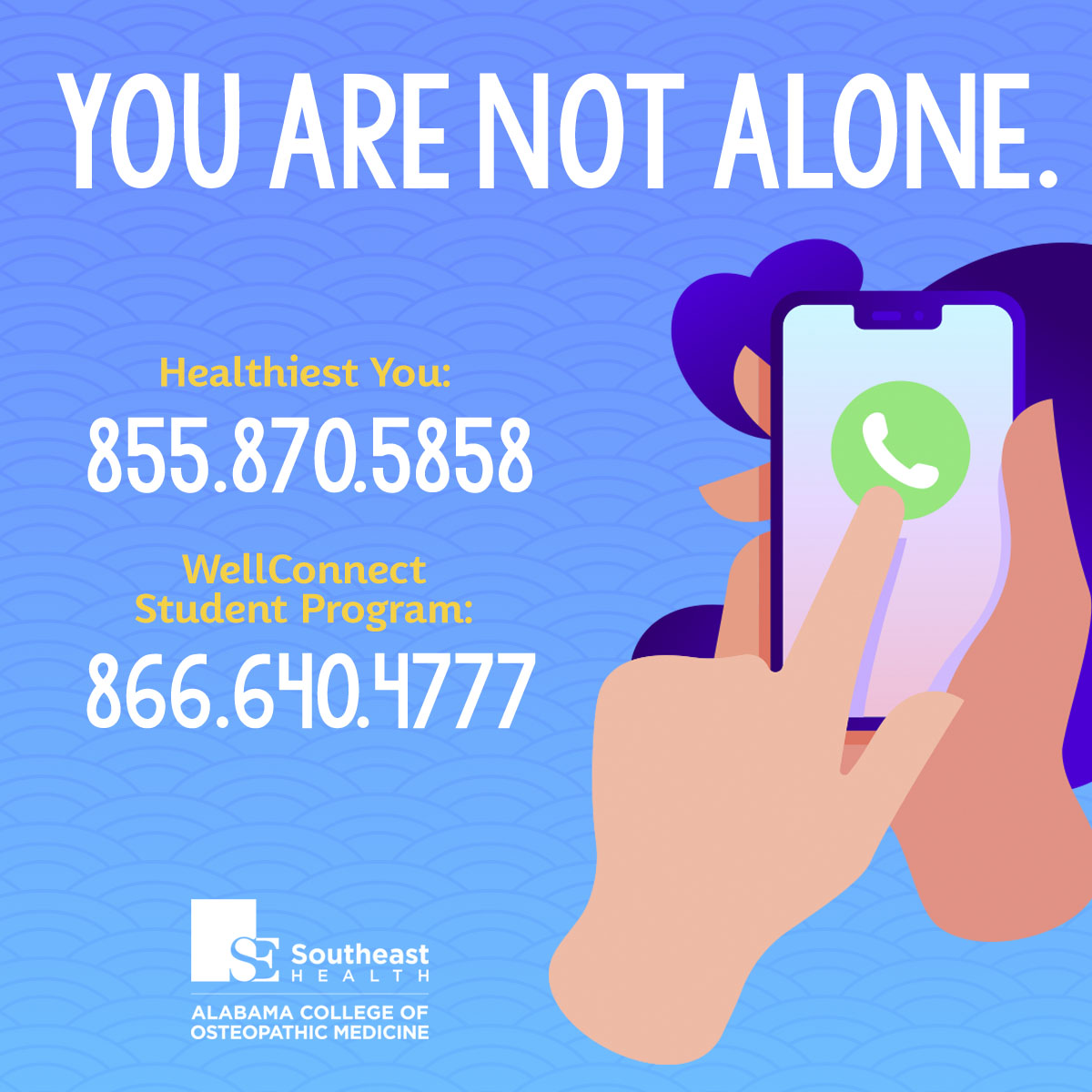 What to do if you suspect someone is suicidal
1. Show them that you care
2. Ask if they are thinking about suicide
3. Get help
4. Don't promise to keep it a secret