Academics
Admissions
Apply Now

White Coat Ceremony is an annual celebration that represents a rite of passage for a first-year medical student and an important step in the journey toward becoming an osteopathic physician.
The Ceremony
The traditional white coat is an outward sign of the medical profession and has been worn by physicians for more than 100 years. Formal presentation of the white coat symbolizes an osteopathic medical student's entrance into a new academic environment, and the acceptance of the obligations and high standards of compassionate care that are expected. Each year, the Alabama College of Osteopathic Medicine marks the achievements of first-year medical students with the presentation of the white coat by each student's faculty advisor.
Class of 2024 Virtual White Coat Ceremony
Sunday, November 8, 2020 | 2 p.m. CT
Keynote Speaker: Leah McKnight-Haas, DO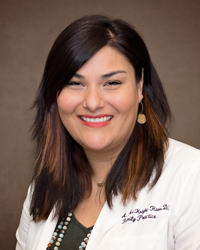 The Virtual White Coat Ceremony is available through ACOM's Facebook page and YouTube channel. Please note that the event premiere on ACOM's YouTube channel will start 15 minutes later, beginning at 2:15 p.m. CT, due to system limitations related to the increased volume of YouTube premieres.