Statement from the Alabama Medical Education Consortium
The state funded Alabama Medical Education Consortium (AMEC) was incorporated in 2004 as a 501C3 to increase the number of physicians in rural and underserved areas of Alabama. The AMEC Pipeline successfully brought third- and fourth-year medical students to Alabama for their last two years of medical school developing statewide core sites for clinical training to provide community-based education. The core teaching sites were later committed to the Alabama College of Osteopathic Medicine (ACOM) for placement of its third- and fourth-year medical students for clinical clerkships.
A second mission began in 2017 to assist hospitals with startup state funding and consultation to develop residency programs. Recognizing that many physicians tend to practice near where they train, AMEC began conversations with Alabama hospitals about developing residency programs. AMEC and ACOM have successfully worked to develop and enrich the growing number of teaching hospitals in Alabama. In 2023, 13 Alabama hospitals had established Graduate Medical Education programs.
We are pleased to share the data below about the programs and the resident/physician population generated by AMEC/ACOM efforts.
Medical student graduates from AMEC's Pipeline – 328; 121 licensed in Alabama
Residents in AMEC-affiliated programs have grown from 21 in 2017 to 231 in 2023
Number of residency graduates in 2021 – 21; 97 projected for 2023
Residency graduates licensed in Alabama – 33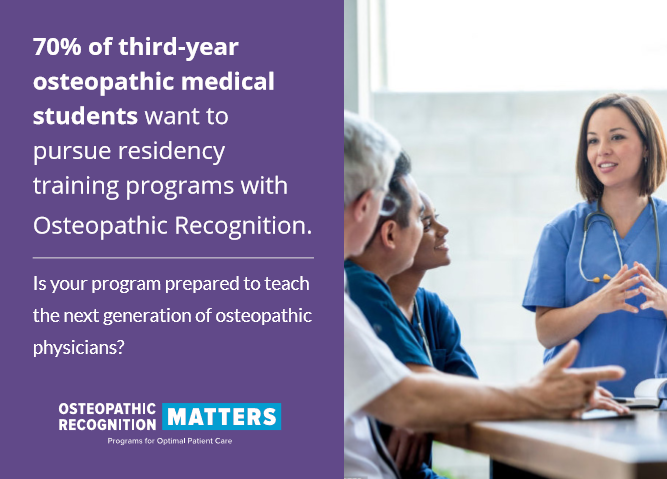 What is Osteopathic Recognition?
Additional acknowledgment from ACGME defining your program as one that integrates osteopathic principles and practice into each of the ACGME competencies.
Why Osteopathic Recognition?
Improved patient care

Increased positive feedback

Reduced costs through shorter hospital stays, high-quality care, and a focus on wellness and prevention in the primary care setting.

Competitive recruitment. In today's graduate medical education environment, both DO

and

MD medical students are seeking residency programs with an osteopathic focus. Read on to learn more!